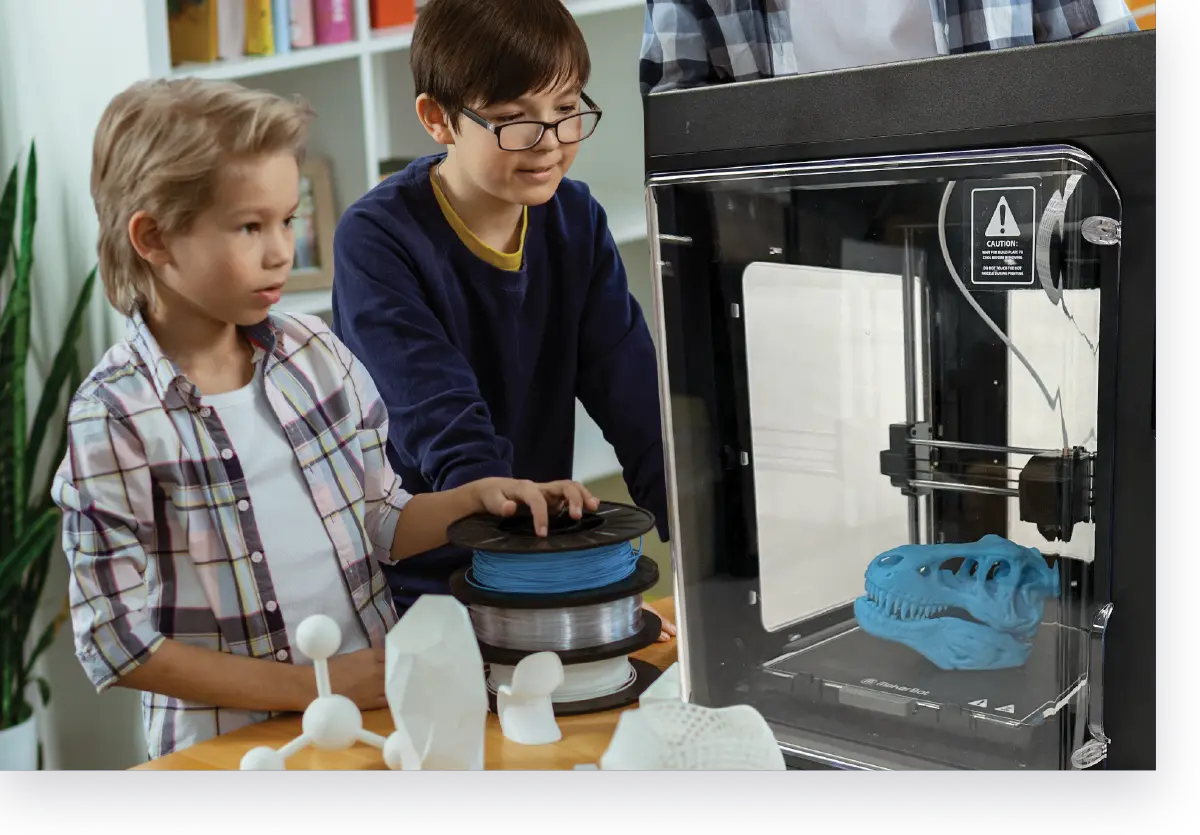 MakerBot
---
MakerBot is a top choice for a 3D printer in many classrooms due to its exceptional features and educational resources. Its user-friendly interface, reliability, and precision make it ideal for students of all skill levels. With a wide range of compatible materials, students can explore various applications and unleash their creativity. MakerBot's commitment to innovation and continuous improvement ensures that educators have access to the latest technology and resources. With MakerBot, students can develop crucial problem-solving, design thinking, and technical skills, preparing them for future STEM careers.
---
A reliable and adaptable 3D Printer.
MakerBot's educational resources, including curriculum, lesson plans, and community support, ensure a seamless integration into your STEM space. Simple yet comprehensive tutorials and guides make it easy to create an engaging and transformative educational experience for your students.
Transform 2D sketches and 3D images into physical masterpieces using one or a combination of many materials available to use. And with STEM Education Works support, you can be set up to succeed in no time!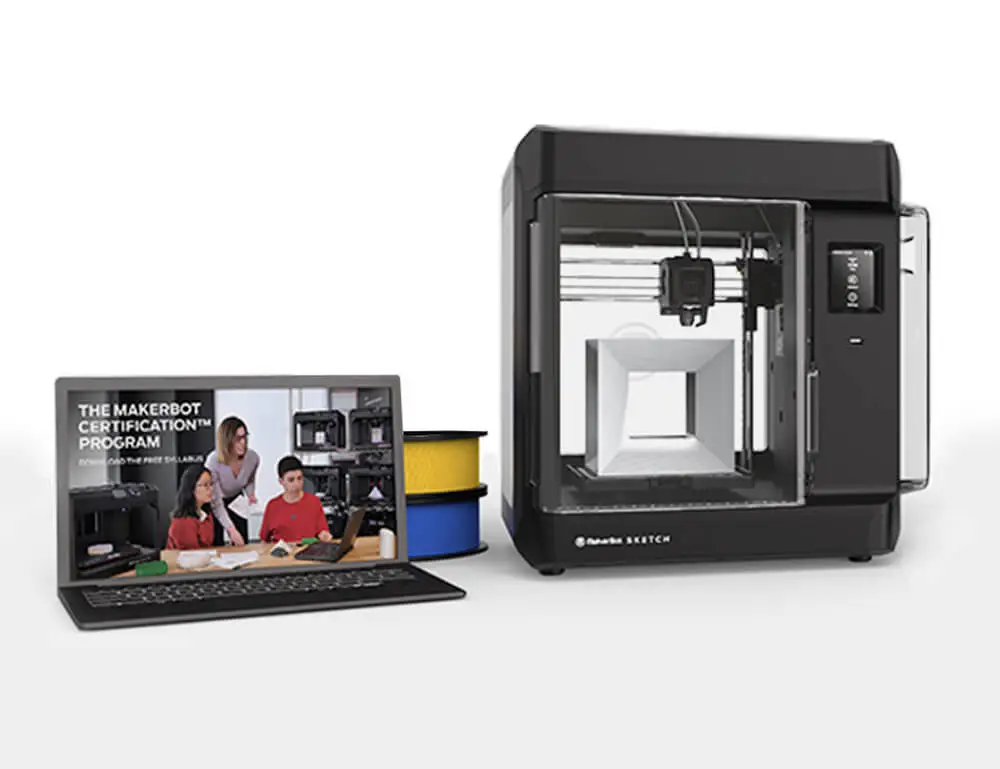 MakerBot Sketch 3D Printer
---
The MakerBot SKETCH supplies you with what you need to integrate 3D printing into the new school year successfully – whether that's back in the classroom or teaching from home. With over 15 hours of online student curriculum and a cloud-based software to manage your students' projects you can unlock students' creative potential with accessible 3D printing.
---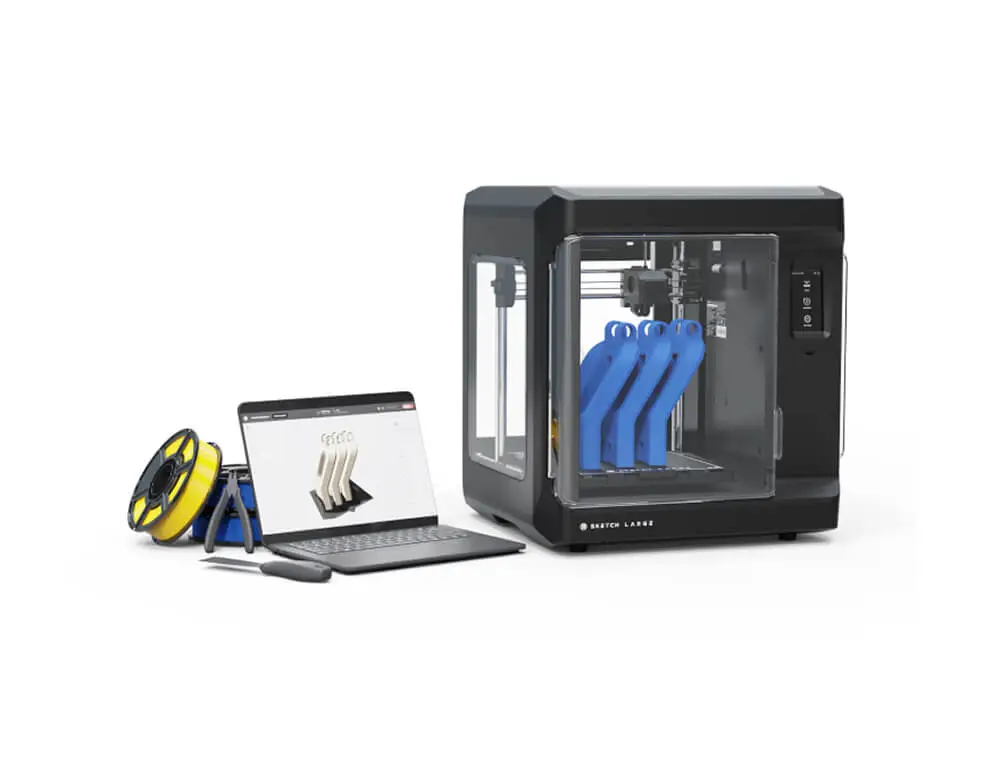 MakerBot Sketch Large 3D Printer
---
Leverage the printer's full print chamber and print up to 8.6" in length, 7.8" in width and almost 10" in height! With a bigger printer comes the ability to print larger projects. From printing different bridge structures for physics, printing the skull of t-rex for biology class, or leveraging 3D printing for problem-solving projects. With the SKETCH Large, you can skip the 3D printing bottleneck and print up to 10 projects on a build plate at the same time, giving you your time back in the classroom and students more opportunities to 3D print.
---
Save up to 25% by bundling.
---
Load up or reload your printers with extra filament.
---
Protect your purchase with extended service plans.
---
Contact us about the MakerBot.
At STEM Education Works, we specialize in providing comprehensive STEM education solutions, and we have expertise in integrating MakerBot into educational settings. We can offer guidance on curriculum development, teacher training, and ongoing support.
Additionally, we have a deep understanding of the MakerBot ecosystem and can help you navigate the range of available options and accessories. We will help you successfully implement MakerBot in your STEM education program with an easy and worry-free experience.
We want you to succeed with our technology and curriculum. That's why we go above and beyond to become your STEM partner. We will help you every step of the way. Our one-on-one consultations and professional development resources make getting started a breeze.
Would you rather chat with us? We're available 8:00 am - 5:00 pm EST.

---

We're happy to talk with you! Give us a call 866-783-6109 — toll-free!

---

2880 Old US Highway 231 S
Lafayette, IN 47909

---