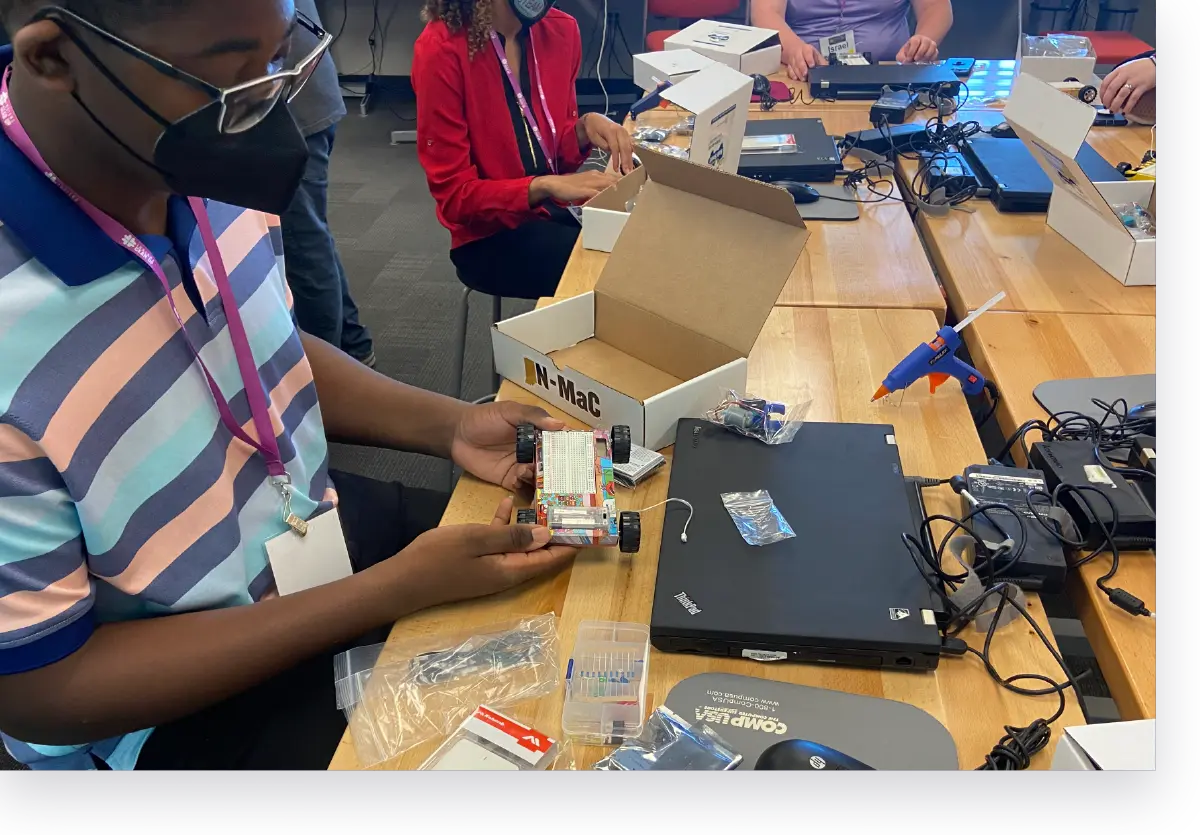 Grades 6-8 Curriculum
---
Our curriculum for grades 6-8 is designed to meet the unique needs of middle school students, providing them with engaging STEM experiences that prepare them for future success.
---
Why Middle School STEM Matters:
Middle school is a critical time for fostering a love for learning and building a strong foundation in STEM disciplines.
Engaging students in meaningful STEM experiences during this phase cultivates curiosity and problem-solving abilities.
STEM education equips students with essential skills for the future.
---
Empower middle school students with engaging stem education.
Engaging Content: Diverse STEM topics resonate with middle school students, making learning relevant and captivating.
Project-Based Learning: Hands-on projects encourage critical thinking, collaboration, and communication skills.
Career and College Readiness: The curriculum aligns with industry demands and college readiness standards.
Personalized Learning: Opportunities for personalization allow students to explore their interests and take ownership of their learning journey.
Teacher Support: We offer comprehensive support, including detailed lesson plans, instructional resources, and professional development opportunities.
Unlock the potential of every middle school student by creating a dynamic learning environment where students thrive and develop a lifelong passion for STEM.
---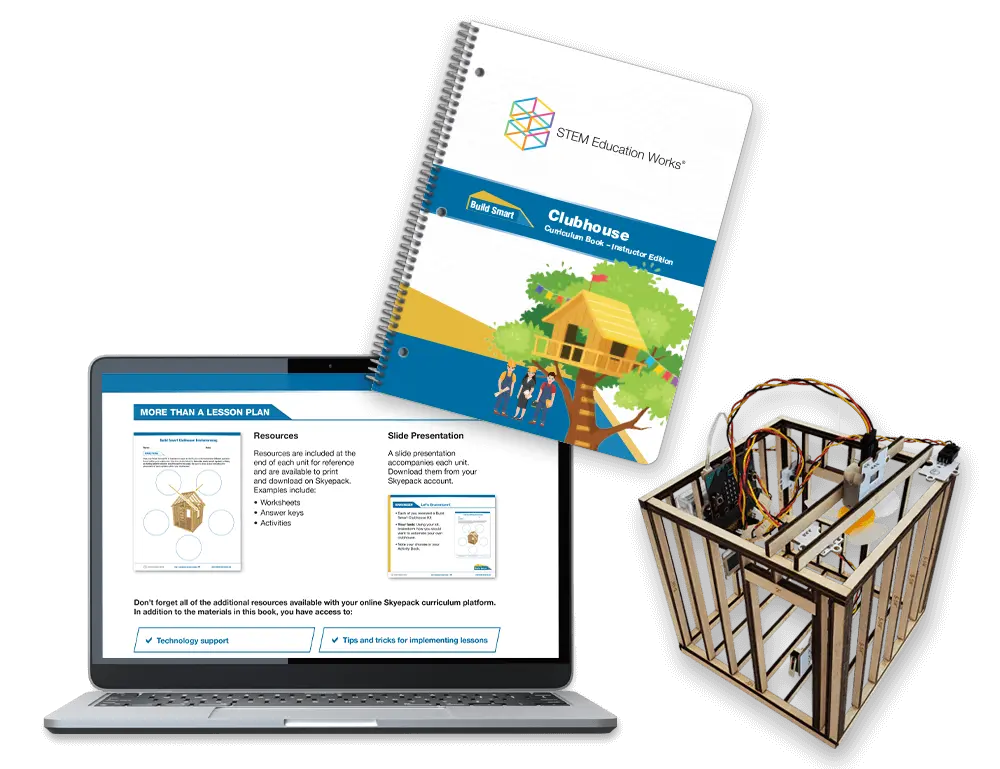 Build Smart Clubhouse Curriculum
---
The Build Smart Clubhouse is a middle school curriculum that gets students designing and building their own automated clubhouses. They learn the fundamentals of construction and architecture as they build their structures using industry standards. Next, students incorporate computer science skills as they code a micro:bit and sensor technology to automate their clubhouses with a thermostat, fan, lighting, and doorbell.
---
Add the necessary materials for your curriculum.
---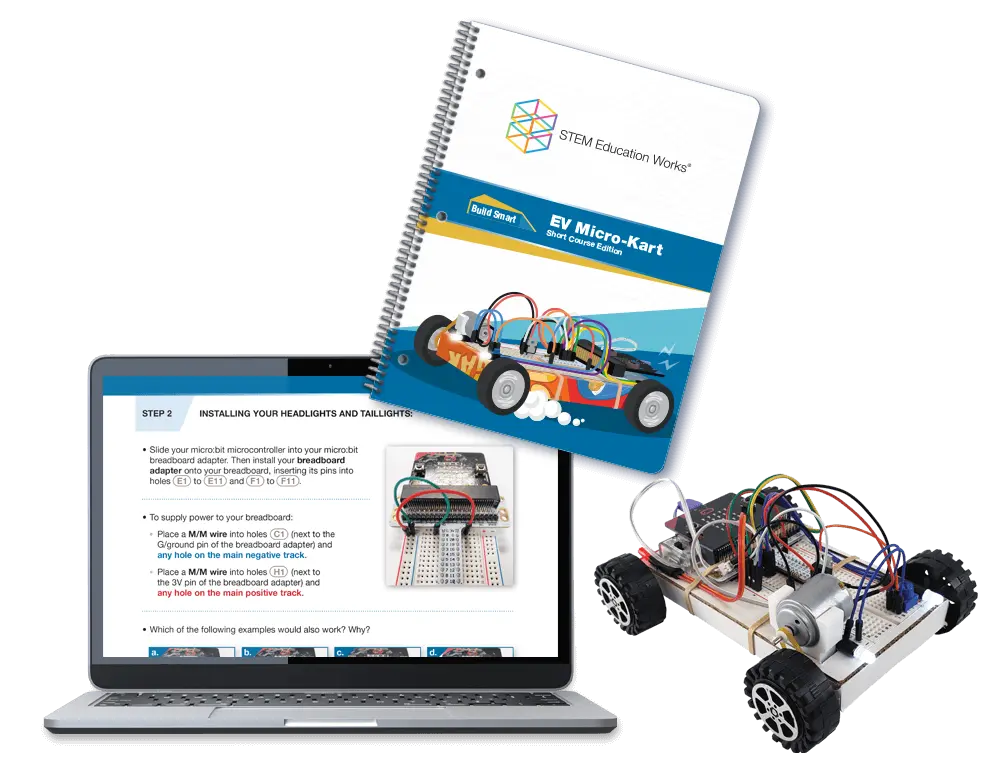 Build Smart EV Micro-Kart FLASH Curriculum
---
The Build Smart EV Micro-Kart FLASH curriculum puts your students in the driver's seat as they build and code their own electric go-karts. The curriculum walks you through each step so you can enjoy the experience alongside your students. It teaches students about the Engineering Design Process through hands-on, project-based learning.
---
Add the necessary materials for your curriculum.
---
Introducing our comprehensive curriculum: empowering educators, engaging students
Our curriculum is carefully designed to provide educators with everything they need to deliver impactful STEM education in their classrooms. Here's what you can expect when you choose our curriculum:
5E Lesson Plan Format: Our curriculum follows the proven 5E instructional model (Engage, Explore, Explain, Engineer, Evaluate), ensuring a comprehensive and effective learning experience for students.
Aligned to National Standards: Our curriculum is meticulously aligned with national standards, ensuring that your students are meeting the necessary learning objectives and preparing them for academic success.
Step-by-Step Instructions: Our curriculum provides clear and detailed step-by-step instructions for teachers, making it easy to implement the lessons and activities without any guesswork.
Materials Lists: We understand the importance of having the right materials for hands-on learning. That's why our curriculum includes comprehensive materials lists, ensuring that you have everything you need to facilitate engaging experiments and projects.
Objectives: Each lesson comes with clearly defined objectives, enabling you to set clear learning targets for your students and track their progress effectively.
Tips and Strategies for Implementation: We provide valuable tips and strategies to help you implement the curriculum effectively and easily. These insights are designed to support your teaching, enhance student engagement, and address potential challenges.
With our comprehensive curriculum, you can confidently deliver engaging STEM education, providing your students with the knowledge, skills, and enthusiasm they need for future success.
We want you to succeed with our technology and curriculum. That's why we go above and beyond to become your STEM partner. We will help you every step of the way. Our one-on-one consultations and professional development resources make getting started a breeze.
Would you rather chat with us? We're available 8:00 am - 5:00 pm EST.

---

We're happy to talk with you! Give us a call 866-783-6109 — toll-free!

---

2880 Old US Highway 231 S
Lafayette, IN 47909

---