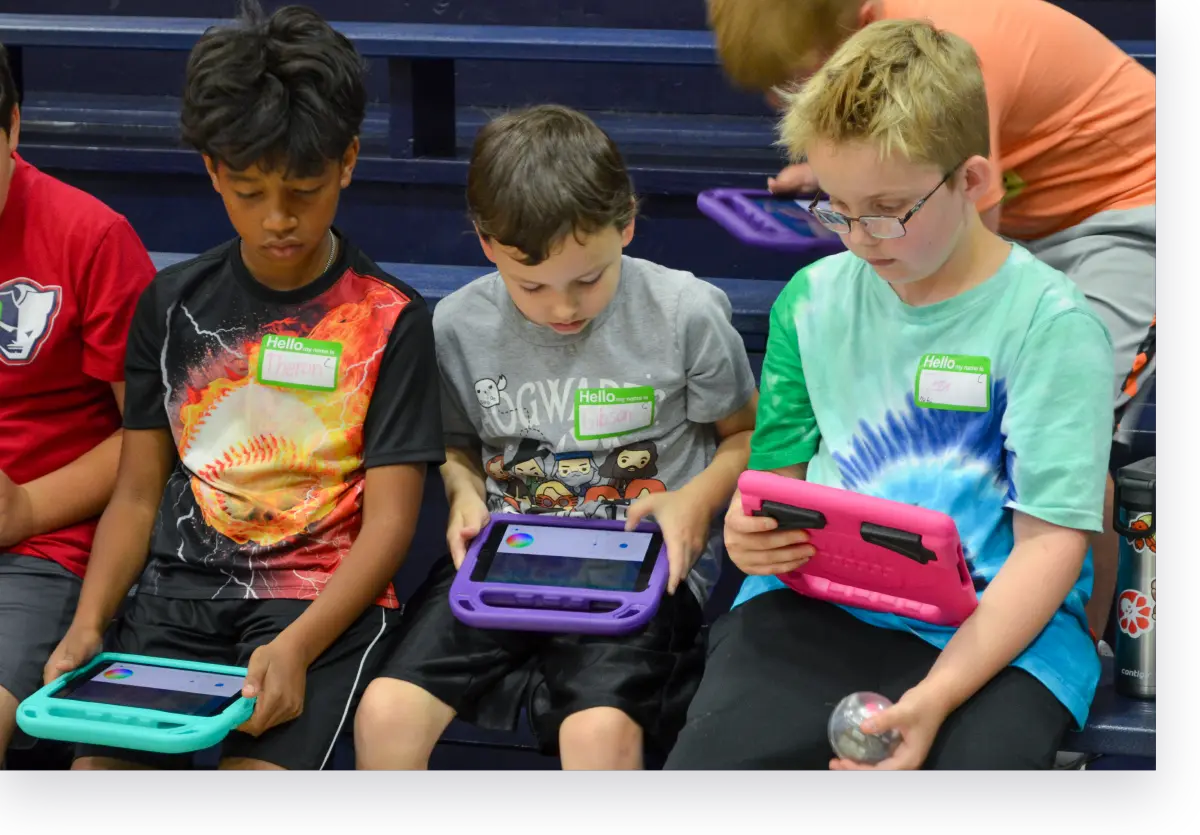 Any place is a good place for STEM education.
---
STEM is critical for students as they prepare for their future. Whether it's in a classroom, dedicated space, on a field trip, or part of a summer experience getting kids to interact with STEM is important.
STEM experiences should be fun and engaging, and that's where we come in. We have the equipment, lessons, and training plans that make it easy for you to create and deliver easy-to-implement STEM experiences at a single location or throughout your network.
---
---
Make your group top-of-mind in your community.
STEM is a hot topic that's exciting for obvious reasons. Let us help you deliver a fun, high-quality experience - whether it's a 2-week camp or an exhibit at a state fair - we're the experts you can count on to make you stand out!
---
It doesn't have to cost a robotic arm and a leg.
Cool STEM activities and lessons don't have to be expensive. We've worked hard to create cost-conscious tools that include fun, quick projects in an effort to get kids excited about the topics with low consumable and recurring costs for you.
---
Delivering real STEM is important.
We continually work to ensure that our STEM lessons are based on rigorous standards and best practices proven to increase student enthusiasm and interest in the topics. We are reliable experts you can trust to deliver dependable, authentic STEM education.
---
Easy to implement anywhere, by anyone.
We're the STEM experts so you don't have to be! Using our equipment and sharing our lessons require no experience. We provide concise step-by-step instructions, with clear pictures, so instructors (trained or not) can be confident and comfortable with their activities.
---
Perfect for camps and group leaders.
Our activities are fun, teach essential fundamental skills, and are easy to set up. We've created easy-to-follow instructions (printed and digital) and even have video tutorials. And, don't forget, our lessons and equipment create seamless activities that are fun to do and make a big impact.
---
Deliver the cool concept without the mess.
STEM can be messy collections of wires, glue, clips, popsicle sticks, and whatever else is laying around. That's why we provide clutter-free activities with easy to clean equipment and materials. Planning and implementing programs can be tiresome, so we don't think you should have to spend forever cleaning it up.
Learn how we have helped many organizations like yours!
To address the lack of accessible STEM and Industry 4.0 technologies for K-6 students, Purdue University's Indiana Manufacturing Competitiveness Center (IN-MaC) partnered with STEM Education Works, Purdue Engineering, and Purdue Polytechnic and established the IN-MaC Design and Innovation Studio. Located in West Lafayette, Indiana, the studio offers students access to Industry 4.0 technology, fosters career awareness and readiness, and develops necessary skills for the 21st century.
This partnership has received positive and exciting feedback from students and educators in the community. Students are able to learn coding, programming, 3D printing, design, prototyping, and more. The studio also encourages industry partnerships, bridging classroom learning with real-world applications. Throughout the whole process, STEM Education Works has provided crucial support, including technology, curriculum, and professional development, to ensure a positive and engaging STEM experience for students visiting Design and Innovation Studios.
We want you to succeed with our technology and curriculum. That's why we go above and beyond to become your STEM partner. We will help you every step of the way. Our one-on-one consultations and professional development resources make getting started a breeze.
Would you rather chat with us? We're available 8:00 am - 5:00 pm EST.

---

We're happy to talk with you! Give us a call 866-783-6109 — toll-free!

---

2880 Old US Highway 231 S
Lafayette, IN 47909

---