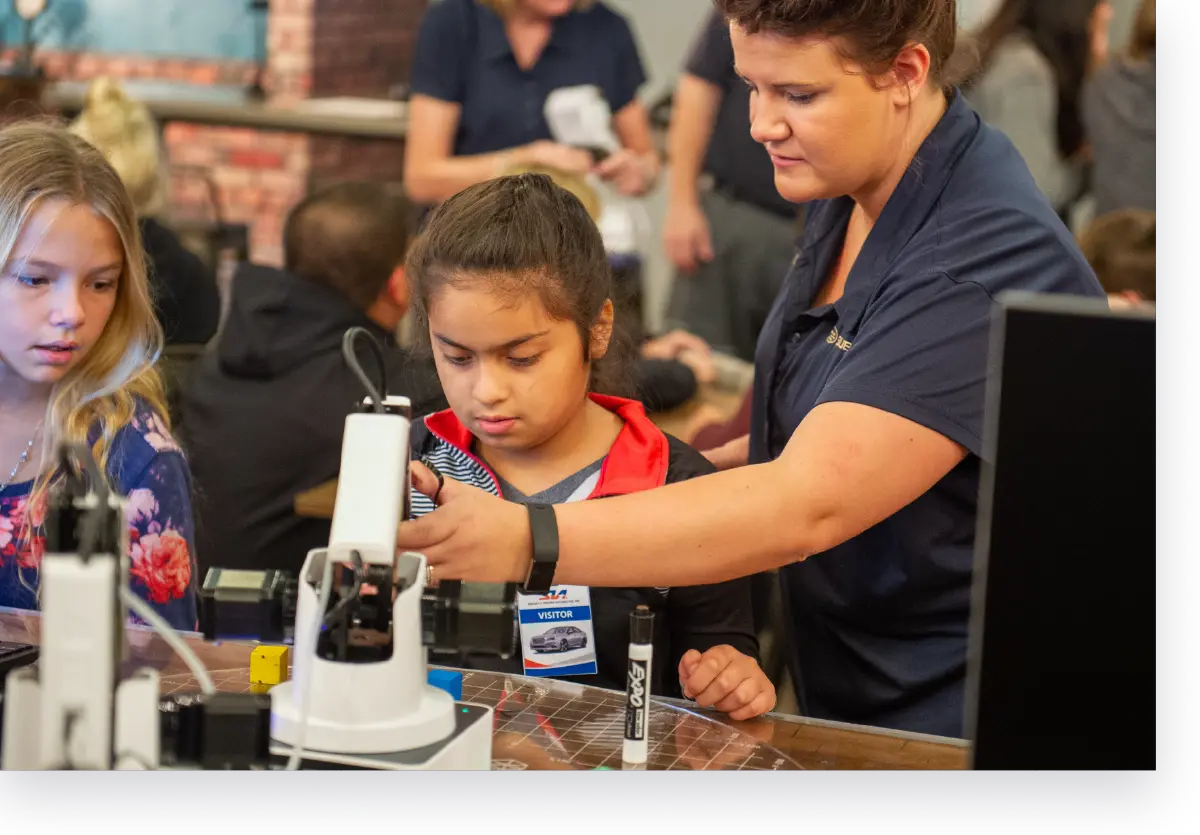 Inspiring the future through innovative STEM showcases
---
The future workforce depends on STEM education. Take advantage of our experience and understanding of your business and industry needs to help you attact the best talent and retain those you already have. Let us help you harvest the creativity and innovation of your unique workplace and create a showcase space that will inspire the next generation to choose your company as the place they dream about working for.
---
---
Make good impressions on potential employees.
Studies continually show that job seekers look for companies that are active in the community. You can bolster your employee recruitment by providing real-world experiences and connections to your schools and community.
---
Help kids learn about STEM careers.
A lot of kids (and adults for that matter) don't know what a STEM career even looks like. Let us help you show how fun and cool STEM can be with our hands-on experiences that integrate career connections in every lesson.
---
Show why STEM careers are exciting options.
The future is bright for people in STEM careers. 60% of the jobs don't even exist yet! We can help you integrate industry 4.0 skills into your space with intriguing concepts like cybersecurity, robotics and automation, even additive manufacturing.
---
Show support for your schools and community.
You can be a beacon for STEM in your community mimicking manufacturing processes in a fun and tangible way through hands-on activities and explorations. We know what works and are happy to help you every step of the way.
---
Success starts with a well-educated workforce.
Successful businesses know that a well-educated workforce drives the bottom-line. Let us help you get students excited about STEM with our equipment and exercises that prompt innovative and creative thinking, helping them develop new ways of looking at problems.
---
Simple solutions from start to finish.
You don't need to be a STEM expert to get a fun and functional lab in your spaces. That's where we come in with support from start to finish -- from talking about your goals to teaching your people how to explain the STEM concepts, we're your turnkey solution.
Learn how we helped Endress+Hauser level up their STEM impact
To achieve their goal of inspiring students and eliminating intimidation associated with STEM learning and technologies, Endress+Hauser, a global in measurement and automation technology, partnered with STEM Education Works and Purdue University's Indiana Manufacturing Competitiveness Center (IN-MaC) to create their own Design and Innovation Studio. The studio offers a space for teachers, students, and the community to engage with STEM technologies and foster excitement for STEM education.
The Endress+Hauser Design and Innovation Studio provides access to hands-on learning experiences and encourages student interest and passion for STEM. To help the company meet their goals, STEM Education Works has supported Endress+Hauser through equipment set up, training classes, troubleshooting, and answering any questions the company may have. This collaboration and support ensure that students in the community are able to easily explore their passion for STEM technology and learning.
We want you to succeed with our technology and curriculum. That's why we go above and beyond to become your STEM partner. We will help you every step of the way. Our one-on-one consultations and professional development resources make getting started a breeze.
Would you rather chat with us? We're available 8:00 am - 5:00 pm EST.

---

We're happy to talk with you! Give us a call 866-783-6109 — toll-free!

---

2880 Old US Highway 231 S
Lafayette, IN 47909

---