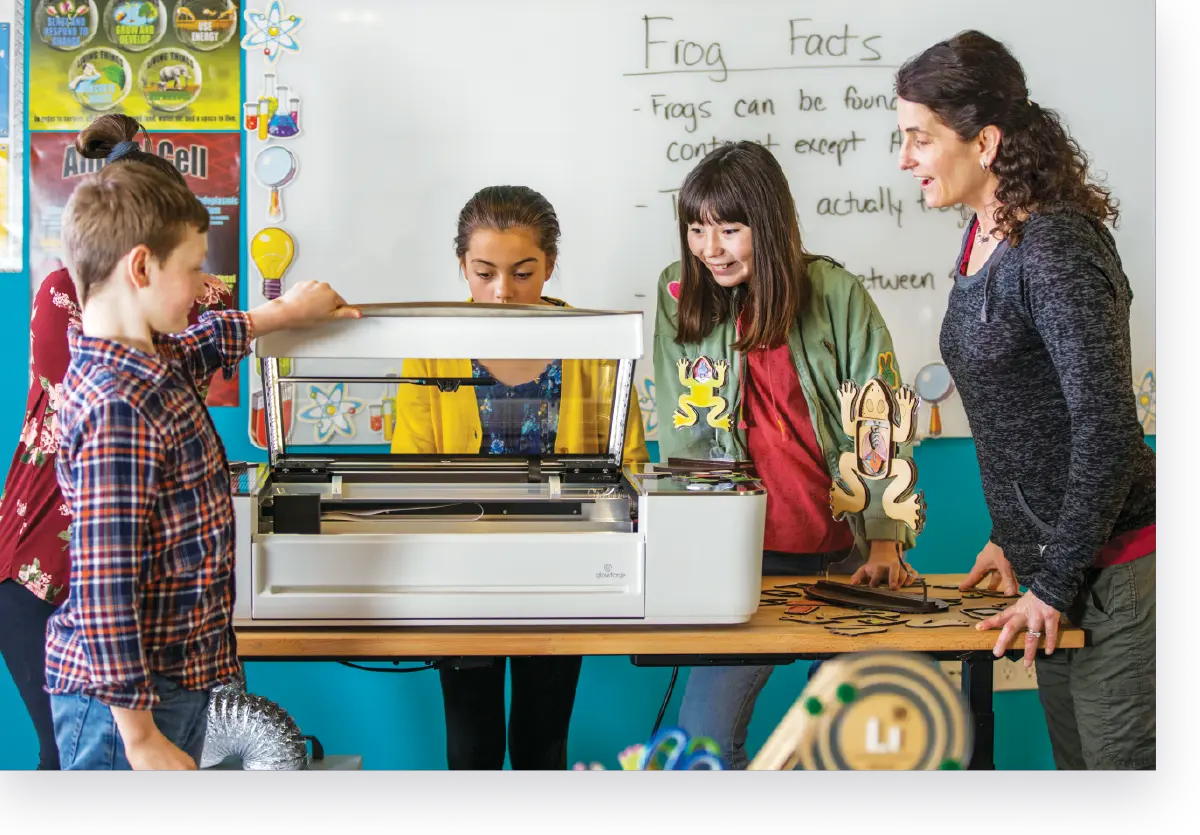 Glowforge
---
Bring any design to life with Glowforge. Cut, engrave, design, or print any object to create a masterpiece that's all your own. With the ability to use almost any material, you can put students' imagination and creativity to the test with this best-in-class laser cutter.
---
Elevate your STEM space with cutting-edge technology. Glowforge is sleek in design with the performance to back up its aesthetics.
Bring a whole new dimension to your teaching.
---
Maximize student creativity with Glowforge. These state-of-the-art laser printers are equipped to use almost any material and go beyond basic laser cutting to transform 2D designs into 3D objects. Help students learn engineering principles like digital fabrication and industry-relevant technology in a way they never have before. With its portable design that's safe to use indoors, Glowforge printers unlock new ways to enhance student learning.
---
Create fabric costumes
Construct wooden furniture
Design paper cards or invitations
Make acrylic decorations
Invent cardboard game boards
Concoct culinary masterpieces
Engrave everyday technology
Fabricate wearable jewelry
Simple setup in under 30 minutes
Works with hundreds of materials
Live camera preview of your work
Autofocus and 3D engraving
Compatible with your Mac, PC, tablet, or phone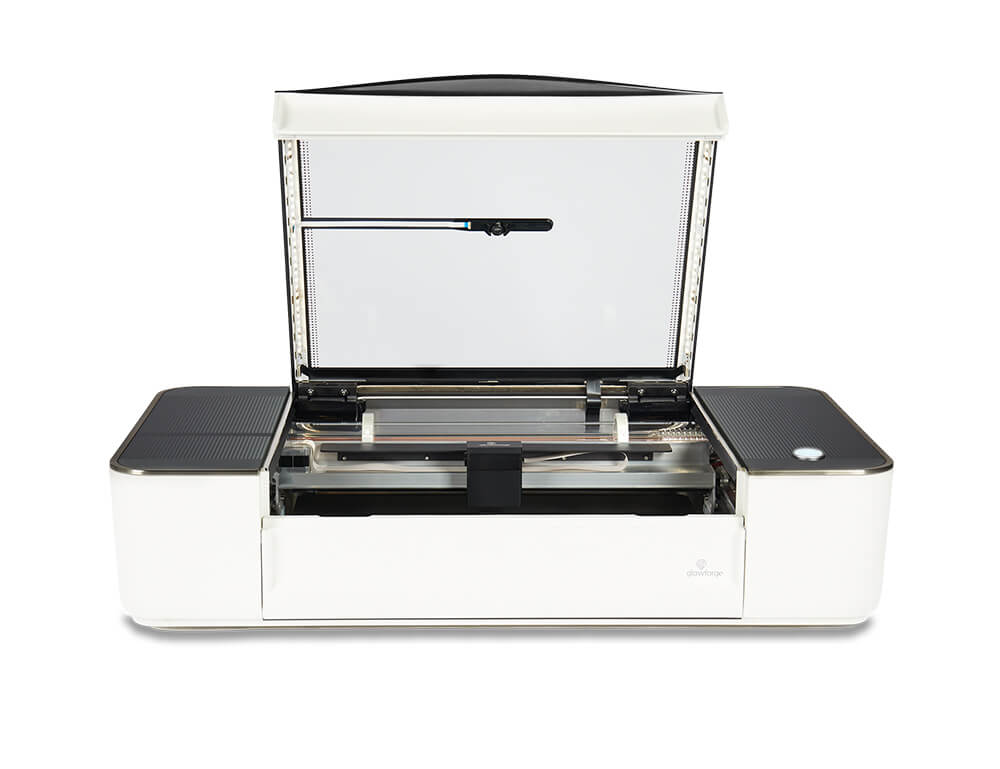 Glowforge Plus – 40 Watt 3D Laser Cutter / Engraver
---
Glowforge lets you integrate engineering design principles into your K-12 or higher education classroom. Free Web-based software, including live camera previews, means your students can design at home. So whether you are virtual, hybrid, or teaching in a traditional setting, your students go from "I have an awesome idea" to "I made this, and it's awesome!" Glowforge® printers are the perfect tool for school, home, or the office. With upgraded hardware and a 2x print speed boost, the Glowforge Plus can help you test the limits of your creativity and add new possibilities to your prints.
---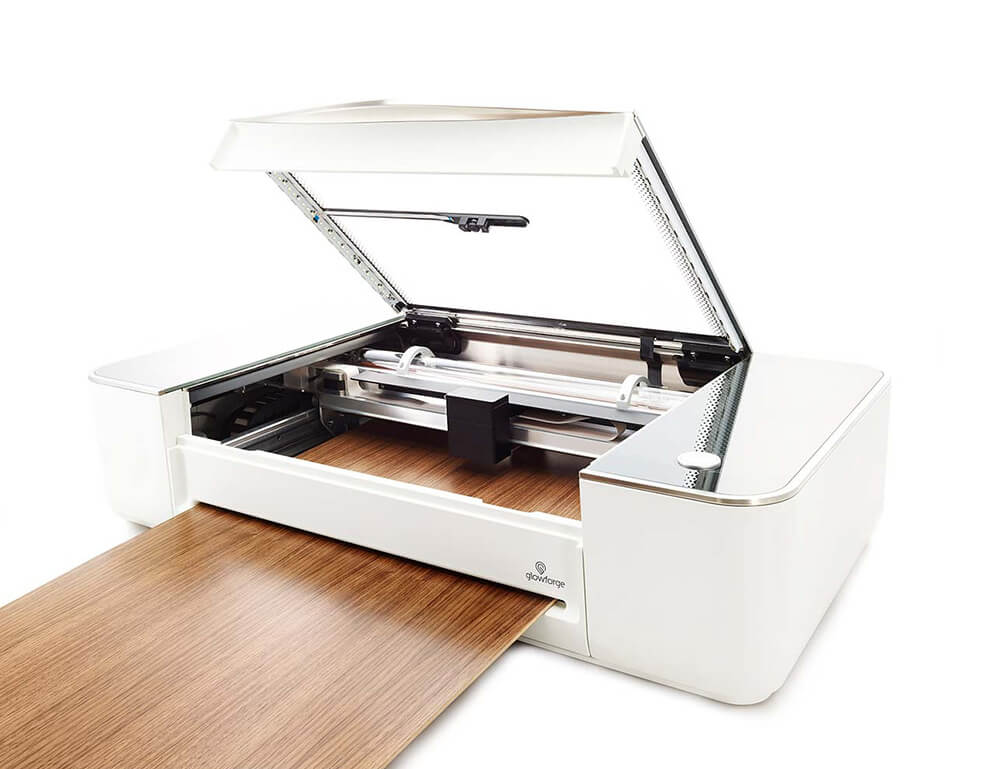 Glowforge Pro – 45 Watt 3D Laser Cutter / Engraver
---
Glowforge® laser cutters bring your students' designs to life. Cut, engrave, shape, design, and print any object to transform it into a masterpiece. Students transform 2D designs into 3D models using almost any material: wood, leather, fabric, cardboard, metal, stone, glass, and even food! The Glowforge® Pro has the most power and functionality of any Glowforge® printer. It is equipped with solid-state cooling technology for all-day use, a 3x print speed boost, and pro passthrough capability for infinitely long prints.
---
Complete your Glowforge purchase with these products.
---
Contact us about Glowforge.
At STEM Education Works, we specialize in providing comprehensive STEM education solutions, and we have expertise in integrating Glowforge into educational settings. We can offer guidance on curriculum development, teacher training, and ongoing support.
Additionally, we have a deep understanding of the Glowforge ecosystem and can help you navigate the range of available options and accessories. We will help you successfully implement Glowforge in your STEM education program with an easy and worry-free experience.
We want you to succeed with our technology and curriculum. That's why we go above and beyond to become your STEM partner. We will help you every step of the way. Our one-on-one consultations and professional development resources make getting started a breeze.
Would you rather chat with us? We're available 8:00 am - 5:00 pm EST.

---

We're happy to talk with you! Give us a call 866-783-6109 — toll-free!

---

2880 Old US Highway 231 S
Lafayette, IN 47909

---