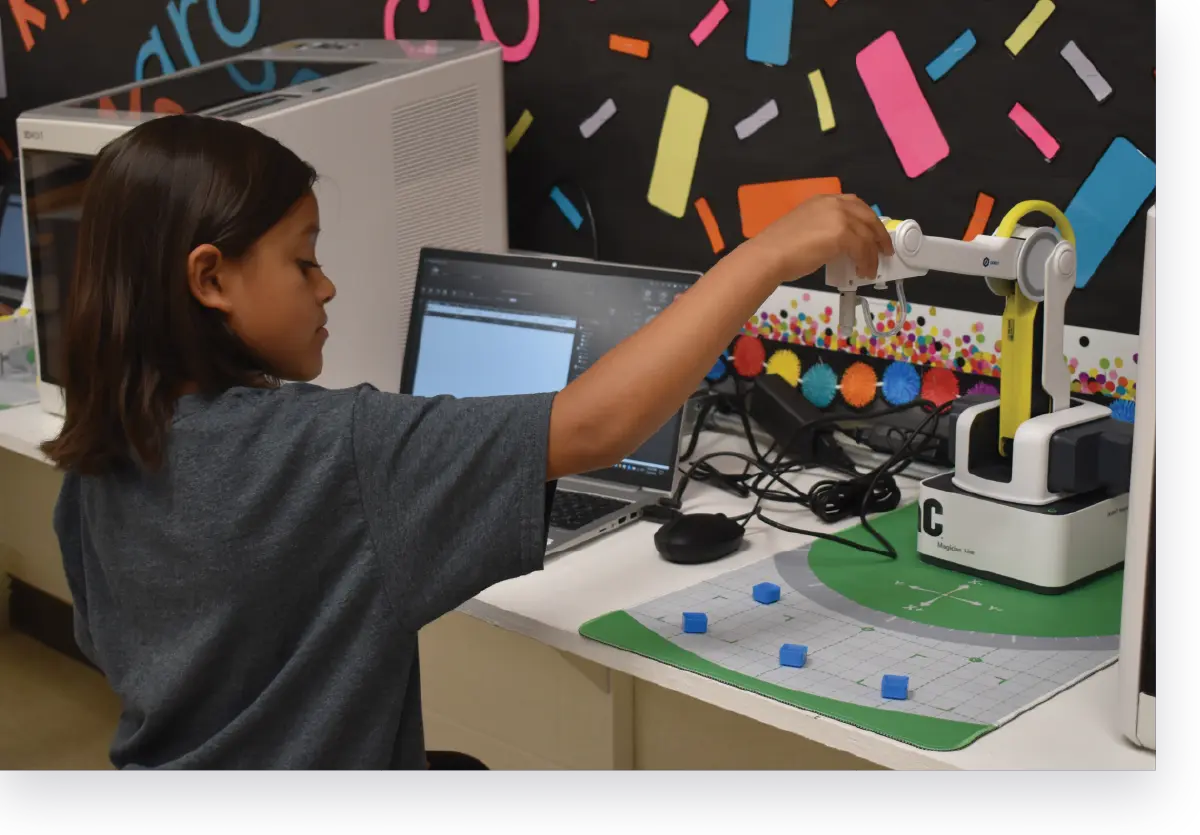 Integrating STEM in your schools is easier than you think
---
Let us help you reach your STEM goals with our easy-to-implement, hands-on projects using cutting-edge technologies. And you don't have to be a STEM expert when you work with us ... that's our job! We'll help guide you every step of the way, from our initial discussions all the way to training even the most resistant of learners.
With our range of affordable options, professional development and training, and curriculum designed "by teachers, for teachers", we'll help you implement standard-aligned STEM curriculum. Our fun, engaging lessons and activities will bring excitement and curiosity as you prepare your students with the valuable skills they will need for future success.
---
---
Kids should engage with fun STEM projects.
STEM should be fun! We want students practicing real-world career skills like programming, iterative design, and construction, and we want them to have fun doing it. That's why we work hard to make all our lessons and activities fun, and why we go out and find cutting-edge equipment that's cool for students to use.
---
Tailor-made with everything you want and need.
Every district, every school, every classroom is different, we get it. All our programming is customizable to fit your specific needs while remaining dialed in to evolving state and national standards. We're happy to tailor our curriculum for you so it dovetails with what your teachers are already teaching or feather it into an existing course.
---
STEM to more people for less money.
We think it's important for everyone to have access to STEM education (it's actually part of our mission statement). That's why we create budget-friendly hardware, training, and support … without unnecessary additional training and certification costs. We strongly feel that effective STEM education can be cost-effective as well.
---
Easy-to-implement cutting edge concepts.
STEM is important for success in the future workforce … but it can be a daunting concept for some. That's why we develop our offerings - from curriculum to equipment - focused on ease of use and implementation. Stirring a student's desire to learn with cool, innovative technologies only happens when that new concept is easy to implement by everyone.
---
Working together, boosting STEM confidence.
Let us help you introduce a variety of STEM careers to your students. Our carefully crafted curriculum is focused on technology, teamwork, and interpersonal communication through our integration of hands-on, group-based, project-based learning. Let's work together to help boost student confidence in STEM concepts and technologies.
---
Position your school as a leader in technology.
Our robotic arms, lasers, and 3D printers, to name a few, are cutting-edge technologies. They will have students excited about STEM, and in turn, their parents too! Our engaging curriculum paired with these technologies is effective and engaging for students of all ages.
Learn how we have helped schools like yours!
Throop Elementary School and STEM Education Works have partnered to cultivate an immersive, hands-on learning environment where students can explore a wide array of STEM technologies. At Throop Elementary, students have access to technologies like the Dobot Magician, Glowforge, littleBits, 3D printers, and more. Access to these technologies allows Throop Elementary School to help students develop problem-solving skills and guide their future career and education decisions.
This collaborative partnership has received positive feedback from students, teachers, parents, and administrators alike. STEM Education Works has remained a steadfast support system throughout the entire process, addressing questions and resolving any technical issues the school may encounter. This ongoing support ensures that Throop Elementary School maintains an environment that nourishes students' passion for STEM while fostering their critical thinking abilities.
We want you to succeed with our technology and curriculum. That's why we go above and beyond to become your STEM partner. We will help you every step of the way. Our one-on-one consultations and professional development resources make getting started a breeze.
Would you rather chat with us? We're available 8:00 am - 5:00 pm EST.

---

We're happy to talk with you! Give us a call 866-783-6109 — toll-free!

---

2880 Old US Highway 231 S
Lafayette, IN 47909

---