Soaring through Obstacles: The Journey of Bessie Coleman
July 25, 2023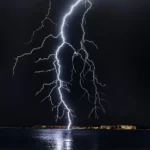 It's Electrifying! The Truth Behind Benjamin Franklin's Discovery
August 22, 2023
For today's blog, we have a special treat for you! I recently got a chance to talk to a friend that I met back in my grad school days at Kent State. Edward "Chip" Hawks is a Gifted Intervention Specialist in Kent, OH who organizes and implements STEM programs with students in the Kent City School District. (I actually previously had the opportunity to work with Chip and his students on some podcast projects! Check 'em out, especially episodes 1, 5, and 7 to hear yours truly!) Recently Chip orchestrated a rocketry program with 5th graders at Walls Elementary School, and I was very excited to see how the program turned out. Here's Chip to give us the details:
"It has become a tradition for the three 5th grade classes at Walls Elementary School to embark upon designing, constructing, and launching rockets after statewide testing has concluded. Once engineering groups were assigned, we began meeting each morning on a rotational basis to discuss the basics, history, and physics of rocketry. Students learned about the forces affecting a rocket, in addition to stability, centers of gravity, and pressure. We talked about Hero's Engine and Ancient Chinese fire arrows. History brings us to the 20th century with the Father of Modern Rocketry, Robert Goddard. No rocketry history would be complete without understanding the V-2 rocket that wreaked havoc on London during WWII and the beginning of the Space Race in 1957. Primary events from Mercury to Apollo to the shuttle missions to present-day Artemis were also highlighted.
Now it was time for students to begin designing their rockets. Cardboard tubes were provided from a generous parent donation. We used engineering rulers to measure in tenths or units of an inch for easy calculations. Then came the fun part. Duct tape was provided for students to exert their creativity and design a rocket that will make them proud. Each rocket was then checked for air bubbles. Once approval was given, it was time to measure and create the fins. The corners were snipped to provide a cool look, as the fins are hot glued to the body tubes. Nosecones were made from large index cards and trimmed along the bottom. They, too, are hot glued to the top of the body tubes. After launch lugs were hot glued to the sides, it was time to insert the engines. I used Estes D 12-5 solid engines, apart from a few multistages where a D 12-0 booster was positioned below a D-12-7 for additional altitude. It is a magnificent sight to see the booster eject and fall to Earth after the second engine ignites. We track each launch for safety and recovery. A few have blown away due to the winds aloft; however, most are retrievable.
On launch day, we set up the Mantis launch pad and the Go-Box was wired to ignite the engines. Once we had connectivity, it was time to begin! 'We are go for launch! T-minus 3, 2, 1, 0. Launch commit…' (I like saying 'launch commit' as a throwback to the Apollo launches with the voice of Apollo Launch Control, Jack King.) My videographer tracks each launch so that we can evaluate flight performance and any anomalies that may have occurred. (Check out a video of a launch here.) Since most rocket components are cardboard, we don't use parachutes, so the rockets descend nosecone first, after reaching apogee, or horizontally. Once the engineering team is released to retrieve their vehicle, they run and are so elated with their accomplishment.
I perceive providing this opportunity as planting a seed. Rocketry has been my passion since the mid-1960s when I was a young kid. I remain enthralled with space travel and am honored to share my passion with 5th-grade students. In fact, I have had several former students major in aerospace or aeronautical engineering. We never know what seeds of opportunity may sprout and guide one on his or her engineering trajectory."
Sounds like the rocketry project was an absolute blast! Pun very intended. Until next time.
 – Dr. Jake Roark