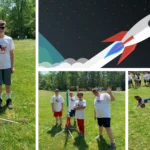 Ohio Fifth Graders Flex Their Rocketry Muscles
August 8, 2023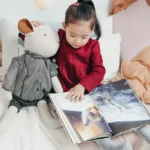 From Atoms to Astronauts: Must-Read STEM Books 
September 5, 2023
Have you ever been smacked by the realization that your cherished beliefs are, in fact, a lie? Well, get ready for another dose of that as we dive into a tale that'll have you questioning the accuracy of everything your history teachers told you. Unless you belong to the rare breed of students that actually verified things before embracing them … and if so, good for you (*cue slow claps*). Regardless, I am here to clear some things up on a well-known historical myth. 
A Shockingly Unpredictable Experiment
The year is 1752, and it's a typical June day in Philadelphia — where "always sunny" is a laughable statement. The weather there is as predictable as a toddler on a sugar rush (I know, a scary thought huh?). At the center of this stormy escapade stands Benjamin Franklin, knee-deep in his electrical pursuit. As ominous storm clouds loom, signaling retreat to sensible townsfolk, Franklin embarks on his daring experiment.
His audacious plan? Flying a kite straight into the center of the thunderstorm, all in the name of proving that lightning and electricity are a dynamic duo. But before you hand him a Nobel Prize or anything, let's acknowledge that Thomas-François Dalibard had already proven this hypothesis a month prior. Equipped with a kite assembled from a silk handkerchief, hemp, silk strings, and — you guessed it — a key, Franklin leaps into action, and set out to collect electrical charges from the atmosphere. Oh yeah, and he's got his trusty Leyden jar, the OG version of a modern capacitor, consisting of a glass jar lined with metal foil. Franklin managed to snatch static electricity from the storm, a monumental achievement (in spite of it already being achieved).
Note: If you don't want to be caught in a storm yourself, you can create some ways to help avoid severe weather like thunderstorms in "Sound The Sirens" found in our Foundations of Design & Innovation Curriculum – micro:bit Edition. 
Debunking the Lightning Bolt Conundrum
Time to set the record straight: Franklin's kite wasn't zapped by a lightning bolt, transforming him into a human Pikachu. As much as we'd love to picture this event taking place, the reality is a tad less thrilling but debatably more entertaining.
The lightning strike myth? Highly unlikely. Let's face it, surviving a direct lightning hit while hanging onto a kite string isn't just unlikely, it's "winning the lottery while being struck by a meteor" levels of improbable. But hey, we were all wide-eyed kids who believed adults were the keepers of undeniable truths.
The Turkey Roast Saga
But wait, there's more! Beyond the kite-dodging myth, Franklin had a hidden talent for shockingly innovative cuisine. In 1749, in the midst of a culinary endeavor involving a turkey, he had an electrifying idea. Could a jolt of electricity tenderize the bird? The story took a jolting turn when Franklin accidentally touched one of the Leyden jars. Franklin received a zap that left him confused, shaking, and more numb than your feelings after a bad pun.
Now, don't you think this turkey experiment could have given the kite saga a run for its money in the history books? But alas, the turkey's loss is the kite's gain in this instance.
Uncovering Historical Accuracy
As we untangle the electrifying threads of Benjamin Franklin's legacy, let's take a moment to appreciate historical authenticity. While the kite story might have lit up our imaginations, Franklin's real contributions are a little less fantastical.
Hopefully this story encourages us to dive into history with a dose of skepticism and a side of curiosity. Who knows, maybe your own investigations will unearth tales as amusingly illuminating as Franklin's. Until we meet again, keep your curiosity charged and your historical truth meter on high.