Interview with Indiana's Teacher of the Year: Sharita Ware
November 10, 2021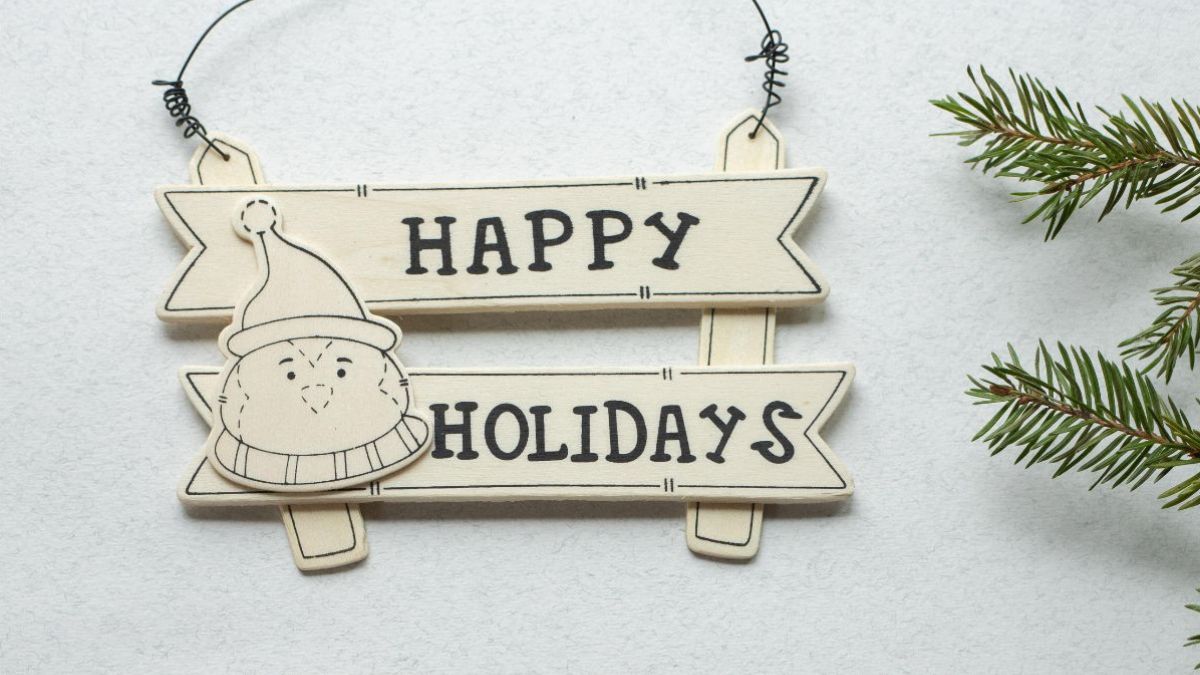 Monthly Newsletter – Holiday 2021
December 16, 2021
Hello everyone! In the process of collaborating with colleagues and other STEM-centered organizations, we here at STEM Education Works often get the opportunity to meet gifted and creative people who, like us, are passionate about supporting and innovating STEM Education. Recently, we had the pleasure of meeting just such a person.
Razan Hamed (who goes by "Rosie") is a graduate student at Purdue University who's on a mission to make learning physics fun. (Or is it "phun"?) Rosie's research is focused on teaching physics using the power of games, both physical and digital. We were able to sit down and speak with her about her unique and engaging approach to STEM education:
Out of all the STEM subjects, what drew you to physics, and specifically, to physics education?
Going into my undergrad I wanted to be a political science major, but soon enough I realized it wasn't for me. Meanwhile, I came across an astronomy class that I fell in love with and wanted to dive deep into. Since my school did not have an astronomy major, I had to go into physics if I wanted a career in astronomy. After a couple of physics classes with my first physics professor, I fell in love with physics and I realized how much a teacher can change how we think about a subject. I loved physics because [my professor] showed me how beautiful it is and I chose to go into physics education to do the same with my future students. Since my passion is physics education, I could not restrict myself to one field of physics like astrophysics or particle physics. I wanted to enjoy all fields of physics and help other people enjoy them too.
Tell me a bit about what your graduate school research has been like. What sort of career path would you like to pursue after you graduate?
After graduating with a physics major from my undergraduate school, I enrolled at Purdue University to pursue my physics Ph.D., which is where I'm currently at in life. My research is centered around using non-traditional education tools, like physical games and video games, to teach physics. During my Ph.D. research, I will be constructing a simple video game in which I will incorporate basic physics concepts and test it on freshman and sophomore physics students. My goal is to find innovative, unconventional ways to teach and learn physics to make it a more fun and relatable subject. I found graduate school to be the perfect place to do so because professors here are open to new and creative ideas, and they are happy to work with students on research ideas that have not been tried before. I quite enjoy that aspect of my research. After finishing my Ph.D., I plan on working either at an educational games company or at a university where I can teach physics using games that I've constructed myself. The big dream is to reform physics education and turn physics into a fun science that goes beyond diagrams and equations.
What got you interested in using games to teach physics in the first place?
As an undergraduate, I created a physics card game and called it "Fysixo," or "Physics-o." It is a card game that helps students retain important physics equations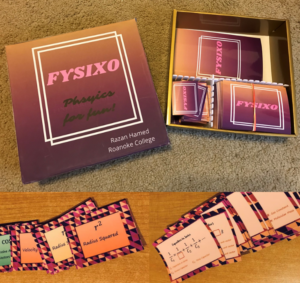 and indirectly make connections between the different variables found in those equations. It is just like playing any card game with a point score system and a final winner at the end. However, the scoring system does not determine who knows more physics; it is merely about who was lucky enough to have the right variables that complete the equation card in the middle of the table. Since the game is not concerned about the level of physics knowledge the students have, there is an equation cheat sheet provided. The student can see what the full equation looks like and then check if they have the variables missing from the equation. This game does not directly teach physics concepts but it works on the embodied cognition of the student so they can recognize important physics formulas and find connections between the variables without even feeling like they are doing so. The motivation in this game, like any other game, is the competition to win. I tested it on juniors and seniors at my undergraduate school and the results have proven that the game mentality helps students learn and retain information more effectively.
So why games? What benefits do you think this method has over traditional teaching methods?
I truly believe in the power of games when it comes to STEM education and especially physics education. The reason behind my belief is simple: students like to have fun. So why not let them have fun in the classroom?! Why not make all of their courses fun? Some people would argue that some subjects are just not fun in nature, but that is one of those misconceptions that our current education system makes us believe. In reality, any subject can be fun if it's taught the right way.
What advice do you have for other people who want to get into the field of STEM education?
For anyone who wants to get into STEM education, I would advise you to find non-traditional ways to present your field of interest. Keep in mind that education is about humans rather than mechanical techniques. There are several ways to get people interested in a subject and while making a subject more engaging might take more time and more effort, it is absolutely worth it when you see the "aha" moment on your students' faces!
We look forward to seeing the fruits of Rosie's innovative work and the exciting challenges that her future career holds! If you have any questions or comments for Rosie you can contact her at rhamed@purdue.edu.