STEM Education Works, subsidiary of SDI Innovations, announces new partnerships at International Society of Technology in Education Conference
June 12, 2019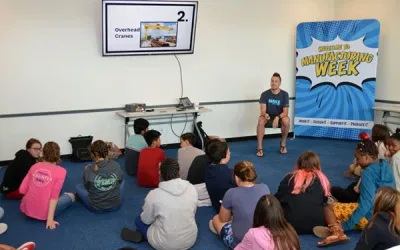 STEM Education Works participates in Greater Lafayette Commerce's annual Manufacturing Week celebration
October 23, 2019
Lafayette, Ind. – June 12, 2019 – SDI Innovations, the parent company of School Datebooks and STEM Education Works, announced today that they have finalized a partnership with Matt Miller. Miller is a critically acclaimed speaker and "one of the top 10 Influencers of education technology" with a follower base of over 70,000 people and author of Ditch That Textbook.
As an innovator in education, Miller provides insights into successful teaching strategies through books, blog posts, podcasts, videos, social media, in-person presentations and his new lesson planner. Miller's book Ditch That Textbook: Free Your Teaching and Revolutionize Your Classroom sold tens of thousands of copies around the world. As a Google Certified Innovator and a Skype Master Teacher, he works with thousands of teachers every year at events and trainings.
"I wrote my own lesson plans for more than a decade in public school classrooms," Miller said. "I was always frustrated with the lack of really useful resources in lesson plan books. With this partnership with SDI Innovations and STEM Education Works, we've created a better lesson planner – one I think teachers will love and appreciate. I look forward to seeing how this partnership can benefit teachers and, ultimately, their students."
SDI Innovations' partnership with Matt Miller amplifies its consumer audience by allowing the company to reach and connect with teachers across the globe. School Datebooks and STEM Educations Works operate in tandem to create products that equip teachers with the necessary means to succeed in the classroom. Because Miller's product satisfies its consumer needs in varying classroom environments, this partnership will benefit teachers as it drastically simplifies their pedagogical methods.
"Coming from the world of education, I can't even begin to tell you how excited I am that Matt is partnering with us here at STEM Education Works!" said Beau Scott, Director of Curriculum at STEM Education Works. "Miller's Ditch That Textbook series has helped so many teachers across the country shift their pedagogical paradigms, impacting the way teachers teach, interact, and prepare our children for their futures," Scott added.
SDI Innovations aims to impact schools nationally as it supports the development of innovative products like Miller's Ditch That Textbook lesson planner. Moreover, this partnership enables SDI Innovations to reach a larger audience and broadens their horizons in the education market.
Please contact:
Jon Sautter, Director of Marketing, jon@sdiinnovations.com
Beau Scott, Director of Curriculum – STEM Education Works, beau@sdiinnovations.com
Matt Miller, matt@ditchthattextbook.com