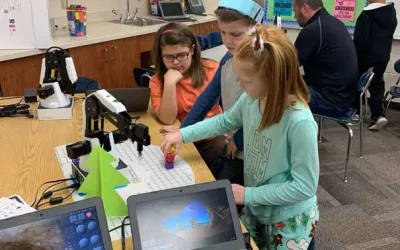 Dayton Elementary uses STEM learning lab to build workforce skills
March 10, 2020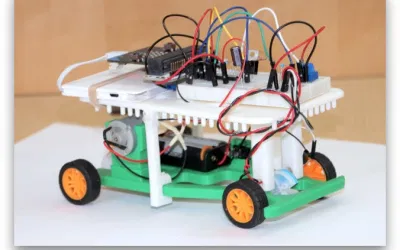 STEM Education Works Micro-Kart Kits bring innovation to engineering boot camps at Purdue
September 21, 2020
Healthcare and essential workers have continued to work during the COVID-19 pandemic, using personal protective equipment like masks and gloves in efforts to stay healthy as they perform their job duties and attempt to mitigate the spread of the virus. However, after wearing face masks that loop behind the ears for long periods of time, many of these workers are forced to deal with painful sores on the backs of their ears from the rubbing of the elastic.
To combat this, individuals with 3D printers or sewing machines across the country began to develop solutions: mask extenders.
The STEM Education Works team is no exception. As the pandemic spread and the company began to work remotely, the team members took home their 3D printers with the plan to print resources for those who need them. They started by printing ventilator manifolds to increase the number of patients who can use one ventilator. Now, however, the team is focusing its efforts on mask extenders, also known as ear savers, and sending them to healthcare facilities and essential businesses.
"So many of our health care professionals and frontline responders have to work in masks all day and are suffering from pressure and irritation on their ears," said Christine Mills, director of STEM Education Works. "We decided to put our 3D printers to work to help."
With four tabs on each side, the 3D-printed strips allow for the loops of the mask to attach to those tabs rather than behind the person's ears, enabling the masks to go completely around the head and easing some of the tension that can cause discomfort.
Mills has been coordinating the distribution of these extenders with two Lafayette, Indiana, groups: Headbands for Heroes and Greater Lafayette Mask Makers. Additionally, she has also been working with other hospital contacts she has from across the state to supply as many mask extenders as possible to those who need them.
STEM Education Works has developed and delivered approximately 3,500 mask extenders so far and is continuing to print them to help healthcare professionals and essential workers during the pandemic.
Do you or someone you know need access to mask extenders? Contact us at info@stemeducationworks.com or 866-783-6109.